Rs.899 for a Summer Care Regime Combo- Nearbuy Groupon Deals, Online Discount Coupons



End Date= 2015-06-29T18:29:59Z
Offer/Product Details-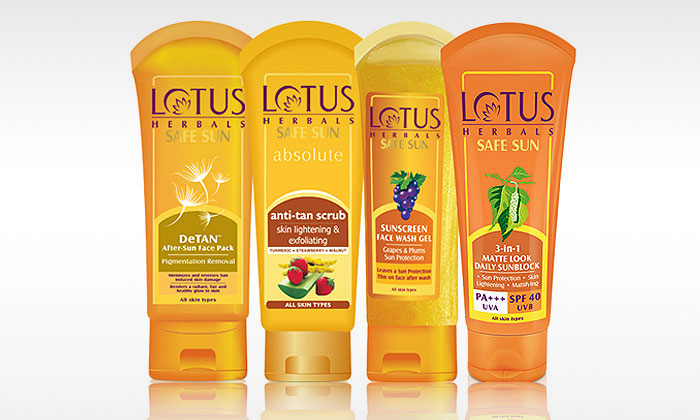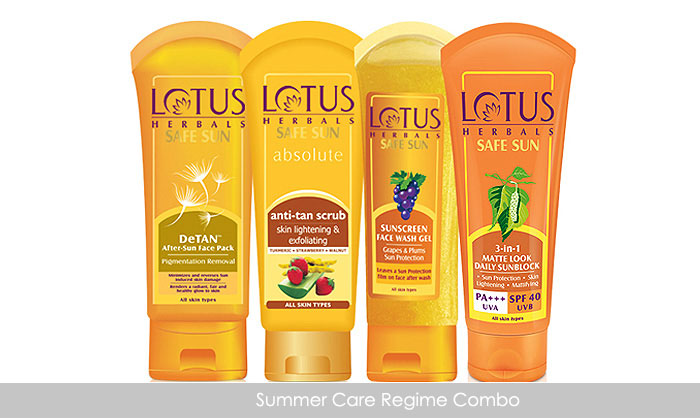 Product Overview:
Combo Includes:
Safe Sun DeTAN After-Sun Face Pack (100g)
Safe Sun absolute Anti-tan scrub (100g)
Safe Sun Sunscreen Face Wash Gel (80g)
Lotus Herbals Safe Sun 3-In-1 Matte Look Daily Sunblock SPF-40 (100g)
SAFE SUN DeTAN After-Sun Face Pack (100g):
An exclusive formulation to help remove skin tan and other forms of sun damage.
Suitable for All Skin Types
Active Ingredients: Liquoriceextract-Suppresses production of melanin & results in skin whitening. Dandelion-Antiseptic, Skin toner & Soothing effect. Carrot Extract-Rich in vitamin A, rejuvenating & antioxidant properties. Helpful in skin lightening .
How to Use: Wash face and apply all over face & neck. Relax till completely dry. Rinse with fresh water. Use twice a week or more depending upon sun exposure.
SAFE SUN absolute Anti-tan Scrub (100g):
Safe Sun Absolute Anti-tan Scrub not only gives you the wonderful ex foliating properties of Strawberry Seeds & Walnut shells, but also has turmeric that helps make the skin lighter
Suitable for All Skin types
Active Ingredients: Walnut and Strawberry Seeds: Ex foliates. Turmeric: Antiseptic, has skin lightening properties
How to Use: Apply liberally and evenly on face and exposed parts of the body
SAFE SUN Sunscreen Face Wash Gel (80g):
Washing your face with this sparkling gel forms an invisible sun protection film. To get double protection, after use apply Safe Sun sunscreen lotion/gel/cream.
Suitable for All Skin Types
Active Ingredients: Grapes Extract-Natural source of Alpha hydroxy acid, natural antioxidant, astringent & antiseptic. Plum Extract-Soothing & moisturising
How to Use: Before you apply sun block cream/lotion, wash face with this sparkling gel. Squeeze out a small quantity on palm. Apply on face and work out lather. Rinse off, pat dry
Lotus Herbals Safe Sun 3-In-1 Matte Look Daily Sunblock SPF-40 (100g):
3-in-1 daily sun block is a revolutionary sun protection formulation which combines broad-spectrum UVA & UVB protection with skin lightening ingredients to give a uniform matte finish to the skin. Its fast absorption and non-greasy formula ensures a shine-free, light & clean feel
Suitable for Normal, oily & comb
Active Ingredients: Birch Extract-Rejuvenating, reduces skin oiliness & refines skin pores. Mallow Extract-Soothing & anti-inflammatory. Hops Extract-Astringent properties
How to Use: Apply liberally and evenly on face and exposed parts of the body (neck, arms, legs.) before exposure to sun. Re-apply frequently
Product Category
= Nearbuy Groupon
Product Highlights
-
Offer is on a Lotus Herbals - Summer Care Regime Combo
Search Summer Care Regime Combo on Nearbuy Groupon