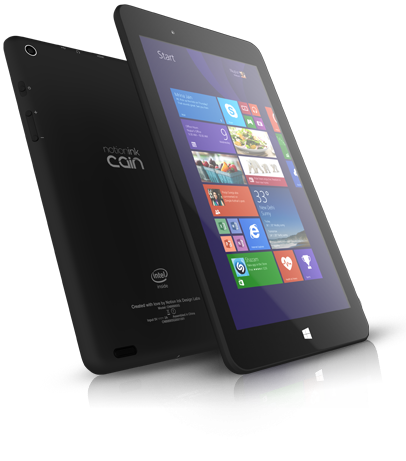 Discover new ways to work and play with Windows 8.1 operating system in Notion Ink Cain 8 tablet. It makes you tap, swipe and navigate through multiple apps effortlessly at a fast speed. With this advanced operating system in your Cain tab, you can explore four applications at one time seamlessly. Multitasking can't get any easier than this!
Watch & play
Perfectly sized display
The 8"IPS display is neither too big nor too small. It's perfectly sized to watch your movies as well as to work on, but small enough to carry around in one hand.

Intel Baytrail processor
With Intel's Quadcore Baytrail processor, you can easily navigate between tabs to check your email, listen to music, watch videos and edit your docs - all at once!
Ability to Install PC Apps
With Notion Ink Cain 8 tablet, you can access thousands of apps on your device that sync with your lifestyle. It not only facilitates downloading of tab applications but also enable you to install a variety of computer apps that were earlier limited to desktop users only. From health and fitness to music and entertainment, you can download endless applications on this tablet.
A personal computer in a beautiful slim profile
Cain 8 is an extremely compact yet powerful companion device to your PC. It extends the functionality of Desktops. A perfect device for your work with support for Outlook, PC class browsing and Windows UniCode support which makes Cain 8 the best reading device for local languages. Add to all this, it has
Extremely fast boot up time of 6 seconds
Unlimited Microsoft OneDrive Cloud storage for backing up your files. Access anytime from any device for continued productivity
Support for additional storage through external hard disks and pen-drives
Free Microsoft Office 365 1 year subscription with cloud support
Hassle free Warranty Service!
Cain comes with On site Swap warranty which means, you will never have to leave your home. If anything goes wrong with your device, Notion Ink will arrange for the pick-up and replacement of your unit with a brand new device. No more taking leaves, travelling to service centres and waiting for your device to be fixed!